Posted by Adam Pieniazek |
Spotlight
| November 11th, 2009
Stuart Foster from The Lost Jacket approached us to simplify his existing site and transform its look from a blog into an agency site. We were very happy to do so as we're big fans of the content on The Lost Jacket. Stuart had a great vision for the site, which we took and expanded upon to create a clean, simplified layout that promotes the services of The Lost Jacket while also giving his content a clean and easy to read feel that is a hallmark of the Thesis theme.
A New Homepage Layout
The first thing we did was to restructure The Lost Jacket's homepage. Stuart wanted a slider effect so we integrated a jquery slider that lists The Lost Jacket's services, the latest blog post, about the agency, a contact form and social media presence.
Stuart also wanted a focus on converting visitors into RSS subscribers. To help with the cause the homepage lists several options on how to subscribe to the blog via RSS, email and Google Reader. It also lists the current number of subscribers to give social proof that The Lost Jacket's content really is top-notch.
A New Blog Layout
Previously, The Lost Jacket featured a three column layout, where the content resided to the left, with two columns in the right sidebar. We encouraged TLJ to drop the sidebars to allow for bigger, easier to read content. When we showed a mockup of the idea, The Lost Jacket loved it and told us to roll with it.
To help maintain some of the features from the sidebar, we added a fat footer to the bottom of the site that lists latest posts, latest comments, and latest Posterous posts. There's also a few links to main pages such as contact, about, and the archives, with the biggest categories (Branding, Marketing, Public Relations, and Social Media) featured again, with unique introductions to each archive.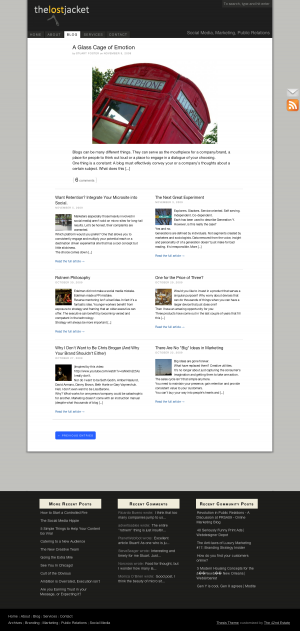 The Result
We think the end site came out really well. Stuart's initial vision and willingness to hand over the reins to us while still keeping an open communication line in place allowed for new ideas to flourish up and become integrated into the site. It was a great process and we feel it helped make the end product great as a result.
Go check out The Lost Jacket's social media, PR, and marketing services. Let us know what you think of the new design, we hope you enjoy it!
A special thank you to Miss Gordon for lending her color & typography expertise to really make the new look sing.
Tags: agency, black, fat footer, jquery, marketing, slider, Social Media